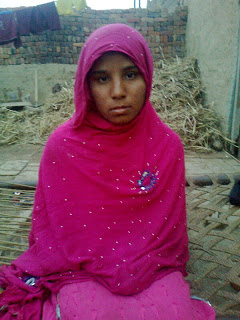 4February, 2013:   Pakistan:  A minor Christian girl named Fouzia Bibi, daughter of Malooka Masih, age 15,  a resident of Village Roday, District of Kasur, was brutally raped by her family's landlord.  Fouzia's father, Mr. Masih has been a worker in his landlord's fields for the last five years [SWI has seen the treatment of these "workers" first hand and can share their treated as slaves.  Working from dawn into the night with rates of pay that are so low that they could never repay all the money they owe their landlord].  Malooka Masih has three daughters and four sons.  Due to poverty, his children also helped their parents in the fields to earn money for the family.
On Jan. 25, 2013, at about 6:30 pm, Fouzia Bibi want to bring milk to the landlord from one of his  nearby cattle areas.  When she was going to the landlord with the jug of milk, two Muslims armed with pistols, Sher Muhammad and Shabir Ali, abducted her and imprisoned her in a room.  They forcibly removed her clothes then raped and tortured her one by one.  No one could hear the cries of the minor girl as she was raped and left unconscious.
After regaining consciousness, she went home and told her mother what had happened and named the rapists.  When her father came home, her mother told him what had happened to their daughter.  Malooka Masih and other Christians from the area immediately went to the police station, Sari Mughai, and told them what had happened.  The police official didn't even bother to listen to him.  After being disappointed by the police, the went to Pattoki and told Rev. Saleem Gill DS Pattoki Church of Pakistan and Rev. Gill (Chief of LEAD) and shared the tragedy that had happened to his daughter and their poor family.  The requested legal assistance in the case.
On Jan. 29, 2012, LEAD's legal team went to the Deputy Superintendent Police Pattoki and submitted a complaint against the rapists.  The complaint was accepted and the FIR was registered against the culprits under Section 376 PPC.  Mr. Masih reported that the culprits were threatening him and his other family members with dire consequences.  He added they were threatened and warned that there would be other criminal cases against them as well.  "They are terrified and under threats," said Ashiq Masih, uncle of Fouzia Bibi.  "They are under fear of hurt and insecurity," told Sadiq and Sharif Masih, both uncles of Fouzia Bibi.  "We are Christians and poor that's why such incidents happened with us.  We are not safe in Pakistan and not our honor and belongings," said Sharif Masih.
Advocate Sadar Mushtaq Gill, Chief of LEAD, met with the family and victim and prayed for them.  They said they were partially satisfied due to the involvement of LEAD in the case and specifically for legal and moral support.  They demand justice for Fouzia Bibi and will not stop pursuing this until their voices are heard.
Advocate Sadar Mushtaq Gill strongly condemns such rapists who destroy the lives of poor and innocent girls.  Such tragedies cause feelings of great insecurity for Pakistani Christians.  They demand that the government take strong steps to eliminate such elements from society.
LEAD is a Christian relief, development and advocacy organization dedicated to working with children, families and communities to overcome poverty and injustice.  As followers of Jesus, they are motivated by God's grace and love to serve all people, regardless of their race, religion, gender or ethnicity.
###