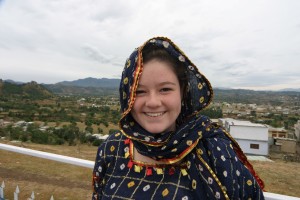 Below is a letter that was simply handed to me late at night on the 3rd of January, 2009 by my daughter Hannah. Nothing in the way she presented it could have ever prepared me for what was written inside.
I have since read her note to me over a dozen times and I choke up with tears every time I see the pages. As a father, I have always purposed to be a witness for my children — a witness in the way I live out what I believe. I have tried to never be a legalist but rather a lover.
I have spent a lot of time traveling away from my family and I know my children have paid a price that they could not even agree to. In the back of my mind, I always have a distant fear about how we have lived and if it will help or hinder my children as they gain their own faith and live what they believe.
How many of us have served the Lord and seen our children run the other way? I point no fingers here as I have seen good parents with terrible kids and terrible parents with great kids. I have no stones to throw. I was rocked to my core as I read Hannah's note to me and after struggling through some really tough stuff from the past year, the Lord used it to so powerfully minister to my heart. Feeling like a failure due to my own weaknesses, I was able to see the Lord use my daughter to shine hope into my soul and have the burden lift.
I share this letter with you with my daughter's permission and if you feel so inclined after reading it, I ask you to respond and encourage Hannah and the notes will be sent along to her.
---
January 3rd, 2009
Hannah Turner
My dreams and aspirations are to serve the Lord in every way I can. My parents taught me this from the first days I can remember. They taught me to love the Lord with all my heart and to love others.
As I look back over my life, the most influential person in it has been my dad. He has gone through so much in his short forty years of life. He has seen so many deaths and traumatic events in his 18 years of service to the Lord in ministry and I have watched and seen the toll it has taken on his life. Last year my dad was diagnosed with Post Traumatic Stress Disorder or PTSD. After coming back from a trip to Africa, I could see along with the rest of my family that my dad was no longer the same.
Initially, I was angry with my father due to the fact that he would simply sit at home in his room, not leave the house, and would barely engage us in a conversation. I was angry and wondered how my father could be so selfish. After some time, I realized that it was I who was being selfish and self consumed.
This event has really impacted my life. I have a much different outlook on life and at times I am not sure if it is good or bad. Even after eighteen months, my father still has struggles at times and I secretly fear that he will go back to the person who could not talk with us once again. In my mind I think, people die every day, bad things happen all the time, why does it affect my father so much?
I am learning from him that life is precious and casts a long shadow of memories, some good, and some bad. In my father's case, much of what he has seen ministering in war zones and disaster areas has been bad.
Every single person can have an impact on someone and their memory remains forever in the hearts of others. People come and go but what matters most and last the longest are the things we do to touch peoples lives and seeing this carried out in my fathers life has compelled me to dedicate my life to making a lasting impact, not just any memory but a memory of Jesus Christ. I desperately want people to see a small glimpse of Jesus when they look at me and possibly by seeing Jesus with skin on that they would also turn their lives over to Him. I am a fifteen-year-old girl but the God I serve is big and able and can use my life as I follow after His plan for me. My dad has shown to me the other side of following Christ, the side that allows suffering rather than simple blessings. My job now is to follow the Lord.
A Virtuous woman who can find, she is worth far more than rubies.
Consumed by the call,
Hannah Turner
---
Kevin Turner, proud father of Hannah who has recently returned from another mission trip to Pakistan.