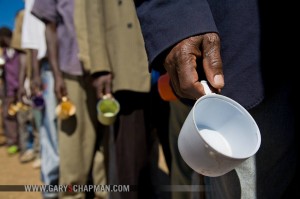 Charles Spurgeon once said, "If you are going to preach the Gospel to a hungry man, then wrap a gospel tract around a sandwich."
While the use of this quote as a model for practical based approaches to evangelism is sound exhortation , we must take care that we do not push this quote beyond its original intention of the man who said it.
To imply that Gospel proclamation must not, or worse, cannot take place without mans benevolent intervention will lead down a road that Christ himself never trod.
I hear the clamor of some readers already, "How dare you!" Christ came and met physical needs." "He healed the sick and lame, and what about the bread miracles." Surely Jesus was moved with compassion for the poor and lame and you only need read the Gospel of Mark and you will see the water and bread miracles being repeated. I will contend, however that the primary purpose of these and other miracles were performed to provide proof of authenticity, God was now in the flesh. In fact we see that when the crowds clamored for a "king of bread" that would magically solve the hunger problem of the day, Jesus promptly withdrew from that crowd. Look at Mark's Gospel we see that Jesus started out his earthly ministry with a flurry of miracles, Mark 1:32-34 "When evening came after the sun set, they began bringing to Him all those who were sick and those who were demon-possessed. 33 The whole town was assembled at the door, 34 and He healed many who were sick with various diseases and drove out the man demons. But He would not permit the demons to speak, because they knew Him." The disciples searched for Jesus early the next morning to presumably start the healing meetings backup and let Jesus know, Mark 1:37b .."everyone's looking for You!"
Yes, Jesus cared about needs but it was subservient to his main reason for his earthly ministry. Listen to the response of Jesus as found in Mark 1:38 And He said to them, "Let's go on to the neighboring villages so that I may preach there too. This is why I have come." Later in the Mark 2:5 Seeing their faith, Jesus told the paralytic, "Son your sins are forgiven." The following verses clearly teach that the main point of the healing, though Jesus was moved with compassion, did recognize their faith, said in v10. "But so you may know that the Son of Man has authority on earth to forgive sins". Again, lets look at Mark 2:17 When Jesus heard this, He told them, "Those who are well don't need a doctor, but the sick do need one. I didn't come to call the righteous, but sinners."
The purpose and ambition of Jesus in his incarnation was to proclaim the Gospel and then embrace death on the cross, die and rise again, that their might be a Gospel for us to proclaim! John 3:17 For God did not send His son into the world that He might condemn the world, but that the world might be saved through Him. Ian MacPherson said, At Bethlehem the most High became the most nigh!" The "singular eye" of Christ was upon the Father while stationed on earth. He did as the Father told Him and He revealed the Character of the Father, then declared, "I and the Father are ONE, if you see Me, you see the Father."
Don't let this get out, but the Apostle Paul never traveled Asia Minor with a forty-foot shipping container of relief goods. His passion, unmatched I might add, was to proclaim Christ and Him Crucified, resurrected and verified! (I Cor. 15:1-11) My caution in all that is aforementioned is simply this, humanitarianism, as beneficial as I have personally seen it to be, is decidedly limited to the preserving of the body but only the Gospel and its proclamation will bring the preserving of the soul for eternity. I admit to you, I have used the quote of Saint Francis, "preach the Gospel, and if necessary use words", to a fault. Any sound biblical thinker will quickly realize that we must have sound doctrine and teaching as well as character of living. Caring for the needs of the poor and needy and widowed and orphaned is truly biblical, but the primary reason for this exchange of love toward those in need is to show the character of God in us as His bride. I am not advocating a Church that "preaches" but does not "demonstrate". I advocate preeminence be placed upon the truthful proclamation of His word, just as Jesus came and demonstrated by His earthly ministry.
I have listened to organization repeatedly say, "We are not here to proclaim, we are here to show God's love". As I chew on that statement I find myself being lead to believe then, that the temporary assistance being rendered has a greater sufficiency than the "truth" that alone saves a mans soul.
What profit is gained by leaving a man marching toward hell while ten pounds heavier. Emphasis must be on the Gospel first and foremost. May I quickly add the caveat that over 22 years of serving internationally and providing humanitarian relief, that I am equally shocked by the tactics used by evangelical groups that would aid starving people with food but first make them listen to a "gospel message"! I oppose that approach as well, as a starving man will raise his hand to follow a toad, if he can at least get food. Help because it is the correct action, then I have found by experience, most usually ask,"why have you done this for me".
Jesus could have easily remained "king of bread" and set up "miracle bread shops" to meet the physical needs of the world in perpetuity, however had He done that, we would have never had the "broken bread" of Christ that we were to consume and never hunger again. Christ knew that the earthly mission was limited by time but His accomplishment of all the Father had given Him to do would open up the doors of eternity. He desired that we would be with Him, where He would be and via His atoning death made that possible.
With a growing push for the Church to become a "Social Gospel" forum, aiding in wealth redistribution, is not only blatantly non-scriptural but leads to horrific crippling of those in need. It is not the initial help, but rather the miss use of "aid" that creates dependency and all the while we smile and pity and feel so needed. The "messiah complex", that is easily fostered when people are in need and we happen to be the ones with the supplies and food to help, is a dangerous usurpation of a role we must not nor could not ever fulfill. It is the emphasis on a socialized gospel that has led us to show a demanding upon the resources of others that Jesus himself never proclaimed much less practiced. Why does all of this matter? Because as the church goes, so goes the nation.
Kevin Turner
Strategic World Impact
---
Please read the article below, as it addresses the issue well. The article, in my opinion, written By Tom Snyder, is a well written look at the errors of some modern evangelical's.
© 2011
A group of self-described "progressive" Christian evangelicals calling themselves "Red Letter Christians," and led by the left-oriented Sojourners magazine and left-oriented religious pundits like Jim Wallis and Tony Campolo, has recently emerged in the body politic. These self-proclaimed "progressives" have been making a lot of noise recently complaining about the ties that other Christian evangelicals have long held with the conservative movement in the United States, including the conservative movement in the Republican Party.
One policy under attack by these "progressives" is the conservative effort to "cut programs to the poor." They say that such a policy goes against Jesus Christ's commands in chapter 24 of the book of Matthew to feed those who are hungry.
These "Red Letter Christians" are making a lot of noise, but they are just a bunch of clanging cymbals – and the love that they claim to spout has no basis whatsoever.
What these misguided religious zealots conveniently fail to note is that nowhere in the New Testament or the other books of the Bible do Jesus Christ, His apostles, God the Father, the Holy Spirit, Moses or the Hebrew prophets command the government to take money from its citizens and transfer it to poor people. In fact, the Bible says just the opposite.
God presents us with three general ways in the Bible to take care of the poor and needy:
1) through the family;
2) through the church; and
3) through individual charity.
The applicable passages for these three ways are Deuteronomy 14:28, 29, Numbers 18:24, Matthew 6:1-4 and 1 Timothy 5:3-16.
Now, the first two ways are pretty clear. People's first obligation is to the needy, poor, widowed and orphaned in their own families. Only after they do this do they have any obligation to help the needy, poor, widowed and orphaned through their local church organization. God established the pattern for this kind of church giving in Numbers 18:24 and Deuteronomy 14:28, 29. As David Chilton points out in his great book "Productive Christians in an Age of Guilt Manipulators," the bulk of Christian giving to the local church should be geared toward financing professional theologians, experts in biblical law and church discipline, teachers of God's word and leaders skilled in worship.
It was only every third year that all the giving was set aside to help the needy, poor, widowed and orphaned. Even then, the money was not given just to anyone who showed up. Those able to work but don't do not qualify for help. Also, those who have families to take care of them don't qualify, nor do widows under age 60 qualify, according to the Apostle Paul in 1 Timothy 5:3-16.
Jesus Christ, who is God in the flesh, talks about the third way in Matthew 6. He tells His listeners that they should give individual charity. He also says they should give such charity secretly: "Do not let your left hand know what your right hand is doing."
In other words, Jesus is not a socialist. Nor is he a liberal. In fact, in none of the Bible passages just cited, nor in any others I know of, does Jesus, God or even Moses cite the government as the means by which the poor, needy, widowed and orphaned are housed, clothed and fed.
Thus, a simple, straightforward reading of the Bible, God's Word, including the "Red Letter" words of Jesus Christ, the Son of God, clearly shows that the American welfare state is anti-Christian and unbiblical.
Any Christian who advocates such a government welfare system (including clergymen or women) should be harshly rebuked. Furthermore, any members of any political party, including Republicans, Democrats, Reform Party members, Libertarians or whatever, who advocate such a socialist system yet claim to be Christian should be reprimanded by their fellow brothers and sisters in Christ and by all church leaders.
If any such party members refuse to repent and change their ways, then their names should be posted at their church and throughout the whole land so that all Christians in the United States can know not to vote for these people or place them in positions of authority and leadership. Of course, all Christians should encourage families to take care of their own. And they should also encourage their churches to give at least one-third of their gross income to help the poor, needy, widowed and orphaned.
On that note, it is interesting to recall that the 10th Commandment in Exodus 20:17 actually protects private property by commanding people not to covet their neighbor's house or belongings. That commands applies to the average citizen as well as the elected official, the judge and all other government officials.
Furthermore, the Bible condemns laziness and praises hard work. Proverbs 10:4 says, "Lazy hands make a man poor, but diligent hands bring wealth." Proverbs 14:23 says, "All hard work brings a profit, but mere talk leads only to poverty."
Finally, it is interesting to note that, in Mark 7:20-23, not only does Jesus Christ declare that all sex outside of heterosexual marriage, including homosexuality, pre-marital sex and adultery, is evil, he also declares that both greed and envy are evil. Thus, Jesus Christ condemns both the greed of the rich man as well as the greed of the poor man, and the envy of the poor man as well as the envy of the rich man.
Thus, God condemns the politics of envy of the left, and he extols the virtues of hard work and capitalism, not just the value of charity!
Liberals and socialists like the "Red Letter Christians," Sen. Hillary Clinton, Sen. Ted Kennedy and former Vice President Al Gore are violating the commands of Jesus Christ, who is God in the Flesh. They are also violating the commands that God gives all of us in the Hebrew Scriptures as well. If they truly want to follow the words of Jesus in the New Testament, they should stop their opposition to the real Christian movement in America and join it. One of the first things they should do immediately is help cut government programs for the poor.
Christians must stop the ungodly, immoral rape of American citizens with the totalitarian, socialist welfare state!
They must establish a proper and godly system of family, church and private charity. Not just Christians, but all true Americans should follow God's clear guidance in this matter. God will reward us mightily for our obedience in these matters.
Tom Snyder is an experienced journalist with nearly 20 years of experience. He is vice president of Good News Communications, a non-profit Christian ministry based in Los Angeles, Calif.