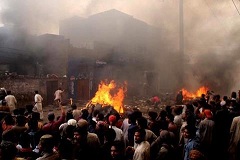 11March, 2013: In 2009, SWI sent a team into Gojra Pakistan and Korian Pakistan, to respond to two Christian Colonies where Muslims had set Christian homes on fire, killing many people in the wake.  In one family, five members were burned to death and one of the sons remained alive.  To say it was a horrifying situation is an understatement.
We've received news that this horror has happened again in another town near Lahore, Pakistan.  Here we share the account we received that's also reported in the Pakistan Christian Post. (wording altered slightly for readability)
___________________________
Lahore:  March 9, 2013:  A mob of Muslim extremists attacked a Christian colony in Badami Ghag, Lahore and set on fire more than 200 homes of Christians after a petty dispute.
On March 8, 2013, the Pakistan Christian Post (PCP) reported that Christian and Muslim youth were playing a game called Snooker  and had harsh words with each other on which the Muslim boys accused one Christian youth, Swan Masih, of defiling names of the prophet Mohammad during an argument.
The dispute among the youth was settled by some elders but one  Muslim boy approached the area mosque and informed them of blasphemous comments by the Christian boy.
The announcements were made from Mosques on loudspeakers, on which more that two thousand Muslims gathered around Joseph Colony and threatened Christians to leave their homes or every one would burn to death in their homes.
After threats from the Muslim mob, hundreds of Christian families fled on the evening of March 8th.
The Muslim mob attacked many Christian elders, women and children and tortured them for not leaving the area.
Meanwhile, Badami Bagh Police arrived on the scene and arrested Sawan Masih under Pakistan's infamous 295 C blasphemy law.
On March 9th, more than three thousand Muslim extremists attacked Joseph colony and took out motorcycles and other furniture from the homes of Christians and torched them.  The Muslim mob, after setting on fire all the belongings in the homes, also started burning homes with chemicals which they brought with them.  More than 200 homes of Christians were burnt down while police stood silent, without stopping the mob.
Lahore is the capital city of Punjab province, the Headquarters of Rangers and the Headquarters of Police, but they were not sent to stop the violence against Christians when Chief Minister of Punjab has offices there.
Punjab is considered a safe haven for banned terrorist organizations and they are protected by the ruling Pakistan Muslim League Nawaz Group (PML (N).
The Police officer who was responsible for not protecting Christians of Gojra in 2009, where a Muslim mob set fire to more than 60 homes and burnt alive 7 Christian children, women and elders, was transfered to Lahore in lieu of receiving any punishment by the Chief Minister of Punjab.
The Muslim mob also attacked a village called Korian at the same time as Gojra in 2009, and this attack occurred during this ruling PML (N) in Punjab.
Christians are the second largest population of Punjab, after Muslims, with estimated numbers of 18 million.
Dr. Nazir S. Bhatti, President of Pakistan Christian Congress has strongly condemned attacks on Christian properties in Joseph Colony and demanded the arrest of the culprits.
"The Punjab government is failed to provide security of life and property to 18 million Christians of PUnjab and time has come that Christian might take right actions" said Nazir Bhatti.
###
___________________________
We ask for you to join SWI in prayers for the Christians in Pakistan.  Their plight is very heavy while they live amongst this constant potential threat of death for Christ.  They are standing strong for Jesus and face death on a daily basis.  As our brothers and sisters-in-Christ, each and every prayer is precious.
SWI has had ongoing work in Pakistan for 12 years, including a Christian school in Punjab province that provides the highest level of education in Pakistan.  If we can reach this generation for Christ, the future of Christian freedom in Pakistan, will be brighter.
If you'd like to support us in our ongoing work in Pakistan, please visit our secure website at….CLICK HERE