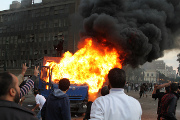 30JANUARY, 2013:  It's been two years since President Hosni Mubarak fell from power, and it seems Egytians aren't happy with the results.
"Two years later, we see there's less religious freedom, there's less democracy, and the Muslim Brotherhood just seems to be moving toward consolidating power and taking control of the whole country," says Todd Nettleton of Voice of the Martyrs USA.
As "tahrir" means liberty, Tahrir Square seemed to be a fitting place for Egyptian protestors to gather on January 25, 2011 and demand freedom from Mubarak's iron-fisted rule.  Later termed a "Day of Wrath," thousands of Egyptians took to the streets in anti-government protests.
On the Day of Wrath's two-year anniversary, "freedom fighters" arrived in Tahrir Square to once again demand liberty for the Egyptian people.  Reportedly, protestors torched a Muslim Brotherhood headquarters in Cairo, and mass demonstrations broke out throughout the country.
Even more violence broke out when a court gave several Egyptians the death sentence for their involvement in deadly soccer violence last year.  Five straight days of violence led the Morsi regime to declare a state of emergency.
So far, the unrest has claimed more than 50 victims.