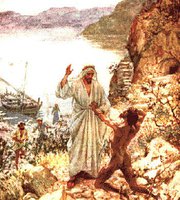 Were this miracle to happen today with much of our modern ministries we would not only take him into the boat, we would mount him to the masthead. Proudly, we would set sail for the next church to display the once "Demon Possessed Man" as proof of how mightily God uses OUR ministry.
Would not people sit back in awe as we paraded this "trophy" through the circuit of meetings and churches, surely glorious praise and big offerings would follow as church folk see what power our ministry wields.
The fallen Adam in me will gladly give obeisance provided space is left for malfeasance.
God save us from our inherited need to bolster ourselves by prostituting what you alone can give or do. Romans 11:36
Kevin J. Turner