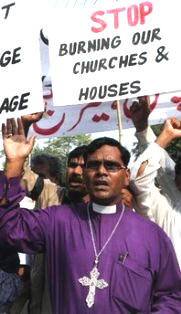 18March, 2013: Outraged Pakistan Christians have taken to the streets of Lahore (and other cities in the country,) to protest against the terrible violence they have suffered following a blasphemy accusation against a young Christian.
The demonstrators denounced the burning of about 200 Christian homes and two churches by a frenzied Muslim mob of about 3,000, amidst claims spurred by allegations that a Christian man made remarks against the Muslim prophet Mohammad.
Some of the hundreds of protestors last Sunday threw stones at police, saying the government failed to adequately protect Christians, Lahore senior police Rai Tahir.
"Tahir said video footage of the fires helped lead to the arrests of more than 150 attackers.  He said charges of terrorism have been filed against suspects," said a CNN report.
The violence that tore through Lahore's Badami  Bagh community on Saturday, March 9, 2013, followed the arrest of Sawan Masih, a Christian in his 20's accused of blasphemy.
"But Masih's arrest wasn't enough to appease an angry mob of Muslims, irate over the alleged crime," added CNN.  "(The) mob wanted police to hand them over the alleged blasphemer, said Hafiz Majid, a senior police official in Badami Bagh.
"The mob also looted some shops run by Christians, he said.  Majid said Christians have fled the area for fear of being killed.
"If convicted, Masih faces the death penalty.   He denies the allegations made by the two men who filed the blasphemy complaint against him with police on Friday (March 8, 2013), Majid said."
Since that time, hundreds of Pakistani Christians have become homeless in Badami Bagh, said ANS correspondent Shamim Masih, who also reports for British Pakistani Christian Association.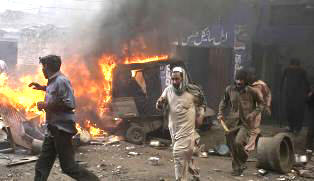 He said, "Two hundred homes were turned to ashes and poor Christians are now living in the streets, desperate for food and other needs.  Their children cannot attend school or college due to the destruction and fear.  Many residents have expressed great dismay and sorrow and depression is seeping through the entire community."
One Christian that Shamim Masih spoke to, Sajid Masih, broke into tears as he said, "I feel helpless and unable to do anything for myself and my family."
Shamin Masih went on to say, "Christians around the country who have been incensed by the recurring theme of a blasphemy allegation followed by the attack and burning down of our vulnerable communities, held protests across the country in a concerted effort to vent their disgust at this most recent incident and to show solidarity with the victims."
"In Youhanabad and Kot Lakhpat, Lahore police used this opportunity to beat the innocent Christian protestors, shot tear gas at them and beat them with sticks, yet when the Muslim attack took place they stood back and watched till the town had been razed to the ground," he said.
He said demonstrations also took place in Islamabad, Rawlpindi, Sailkot, Jhelum and Sahiwal, as well as other cities across Pakistan.
Mr. Masih said that Muslims of Jhelum City, located on the right bank of the Jhelum river, in the north of Punjab province, "then threatened to burn Christian homes like those in the Badami Bagh community, in response to the protests."
According to sources, on March 12, 2013, Christians in Jehlum city began to protest against the violence in Badami Bagh, chanting slogans like, "Repeal the Blasphemy Law" and "The Blasphemy law is Black Law."
"After this had occurred," added Shamim Masih, "local Imams began preaching hatred from their mosque loudspeakers calling Muslims to gather together and punish those Christians who were decrying the Blasphemy law.
"Local radicals have pressured the area police station to lodge a First Investigation Report – FIR under 295-C PPC – against Christians who chanted slogans against the blasphemy laws.
"Now the community living there is living in fear of reprisals for their simple act of condemning violence and the blasphemy laws of Pakistan that have been used as a tool for destruction and intimidation."
Basharat Khokhar, a local human rights activist, said that there are around 26 Christian families living among the large Muslim population in an area of the city.
The local Christians, he said, arranged their protest to show their solidarity with Christians of Badami Bagh community, and Mr. George Masih led the protest rally.  Khokhar said that they "obtained permission from the District Police Officer who provided them with security.  There were 250 people in the protest rally.  The next day, Muslims demanded the arrest of George Masih and called for the registration of an FIR against him."
According to Pastor Naeem Bhadhar, a Presbyterian missionary living in Kalaswala village, in the Sailkot district, located about 87 miles from Lahore city, told Shamim Masih by telephone, that he had arranged a protest rally in his city but on Thursday, March 14, 2013, when he was travelling back to his village "a few radical Muslims from Jammat ut Dawa [a Muslim organization] severely beat him with sticks and destroyed his motorcycle.
"He has been severely injured and was taken to hospital and has had a number of stitches on his left arm.  He has been warned by the extremist group, that if Christians organize further protests, they will be killed."
On the positive note, Masih has reported that he had been able, with other volunteers, to deliver aid to families affected by the violence in the Badami Bagh area on behalf of the British Pakistani Christian Association.
He said, "We found more that 178 families that were living in tents in different streets.  They are all scattered in different areas and though we usually set up one base and distribute our aid from there, we decided to visit each resident in their individual tents.  More than 200 food packets were distributed among the needy people of Badami Bagh."
One person, he was able to help was Bushra bibi, sister of Sawan Masih, the accused young man in the blasphemy case.  She told him, "Thank you for the food packages.  We  have been hungry and have no sources of income, as our men are too scared to go to work, where they will be threatened."
She added, "We want to see our brother, who is alone in the jail and nobody is taking care of his case.  I have heard a cleric say that they [ the Muslims] will hang him."
Another person that Mr. Masih was able to deliver aid to was Naila bibi, a young lady, who told him, "We have been here in tents and very few people have reached to us.  I request my Christians around the world to step in to help us in our restoration."
Sadar Masih, father of five young children, said  "It's hard to survive in this sort of situation, but we are here and now our future generation is suffering from cruelty from our Muslim neighbors."
Shamim Masih said, "There is a desperate need for cooking utensils and equipment, families also require proper bedding, a source of clean water and some temporary maintained toilet facilities.  Families seek prayer and have no church building to worship in, they are seeing a large tent for church services.  We pray that God will provide for the needs of this innocent community."
###
________________________
SWI is seeking donations to assist these victims in Pakistan.  If you are so led, we encourage you to visit our secure support page to support them in their time of struggle.  Our plan is to get Bibles, cooking sets and other immediate need items, as well medical assistance to them.  CLICK HERE TO PARTNER WITH US