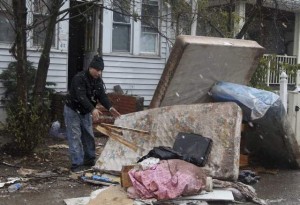 02DECEMBER, 2012 – A month after Sandy's floodwaters swept up his block, punched a hole in his foundation and swamped his furnace, John Frawley still has no electricity or heat in his dilapidated home on the Rockaway seashore
The 57-year-old, who also lost his car and all his winter clothes in the flood, now spends his nights shivering in a pair of donated snow pants, worrying whether the cold might make his chronic heart condition worse.
"I've been coughing like crazy," said Frawley, a former commercial fisherman disabled by a spine injury.  He said his family doesn't have the money to pay for even basic repairs.  So far, he has avoided going to a shelter, saying he'd rather sleep in his own home.
"But I'm telling you, I can't stay here much longer," he said.
The chill is only one of the potential environmental hazards that experts say might endanger people trying to resume their lives in the vast New York and New Jersey disaster zone.
Uncounted numbers of families have returned to coastal homes that are contaminated with mold, which can aggravate allergies and leave people perpetually wheezing.  Others have been sleeping in houses filled with construction dust, as worker have ripped out walls and flooring.  That dust can sometimes trigger asthma.
But it is the approaching winter that has some public health officials worried most.  Nighttime temperatures have been around freezing and stand to drop in the coming weeks.
New York City's health department said the number of people visiting hospital emergency rooms for cold-related problems doubled in November, compared to the previous years.
Since the storm, the health department has been sending National Guard troops door-to-door, trying to persuade people to leave cold homes until their heating systems are fixed.  The city also is carrying out a plan to spend hundreds of millions of dollars helping residents make emergency repairs needed to restore their heat and hot water.
Convincing people that they could be endangering themselves by staying until that work is complete, though, isn't always easy.
After Hurricane Katrina, medical researchers in New Orleans documented a rise in respiratory ailments among people living in neighborhoods where buildings were being repaired.
The issue wasn't just mold, which can cause problems for years if it isn't mediated properly, said Felicia Rabito, an epidemiologist at Tulane University's School of Public Health and Tropical Medicine.  There was simply so much work being done, families spent their days breathing the fine particles of sanded wood and drywall.
People complained of something that became known as the "Katrina cough," and though it subsided once the dust settled, researchers later found high lead levels in some neighborhoods because of the work crews ignoring standards for lead paint removal.
A group of occupational health experts in New York City, including doctors who run programs for people sickened by World Trade Center dust after 9/11, warned last week that workers cleaning up Sandy's wreckage need to protect themselves by suppressing dust with water, wearing masks and being aware of potential asbestos exposure.
As for the bitter cold, there was no test needed to tell Frawley that his home is no place to be spending frigid autumn nights.
"A couple of days ago, I was shivering so badly, I just couldn't stop," Frawley said.
Yet with winter nearly here, he still had no plan for getting his heat working again or his ruined electrical system restored although he also has passed up some of the programs designed to help people like him.
And he has no intention of heading to a shelter.
By David B. Caruso, The Associated Press
# # #
---
Sandy's recent rampage on the country's North East Coast has caused severe amounts of damage and affected the lives  of thousands of people.  Our hearts and prayers go out to those suffering in the affected areas as we enter this Christmas season.  SWI has been with those affected by disasters and the trauma they deal with isn't describable with words.  As we decorate our homes and gather with our loved ones, let us remember those who are dealing with devastation in their lives.
If you are so led to donate to SWI in our ongoing work in disaster areas, you can visit our secure support page by CLICKING HERE.