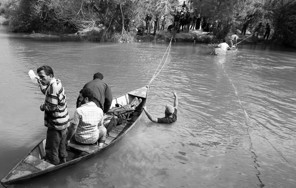 04DECEMBER, 2012 – ANTAKYA, Turkey:  The intensifying violence in Syria raised alarm on the country's northern border Monday, as turkey scrambled military jets after Syrian planes bombed rebels fighting on the frontier's edge while panicked civilians crawled across a parbed-wire fence separating the two countries.
The incident in the Syrian town of Ras al-Ayn, though relatively minor, helps explain the tension created in Turkey by the conflict in Syria, which has brought the fighting so close to Turkish farming communities that residents routinely hear the sound of bombs exploding.
It also underscored Turkey's eagerness to get Patriot missiles as a defensive measure, fearing that the regime of Syrian President Bashar al-Assad might deploy missile with chemical warheads in a last -ditch effort to survive.  People worry that those missiles could spew poisonous fumes that would waft into Turkey, or even stray into Turkish territory, as shells have several times.
NATO meets today to decide whether to give the Patriots to Turkey, and Turkish officials have begun scouting potential locations for the missile system, although they may not be deployed for several weeks.
Meanwhile, conflicting reports emerged from Damascus, the Syrian capital, about the fate of the spokes of the foreign Ministry, Jihad Makdissi.
A statement Monday from the Foreign Ministry said Makdissi, who has strongly defended the government's actions in the civil war, was removed from his post but remained with the ministry.  The announcement prompted speculation that he has defected.
But a friend of his reached by phone said Makdissi was in London, where he once worked in Syria's diplomatic mission and owns a house.  The friend said Makdissi was taking a break from the pressure of being the official face of the government in the media while having no security protection for himself or his family.  The friend characterized Makdissi's as a "withdrawal" rather than a defection.
The incent near Ras al-Ayn started midmornig Monday, according to a resident of the nearby Turkish town of Ceylanpinar, who spoke by phone.
Opposition activists said a Syrian plane dropped two bombs on rebels in an area where Kurdish and Islamist rebel forces have recently clashed, roughly 300 yards from the border with Turkey.  At least 10 people were reported killed, including three children.  Turkish ambulances rushed to the border to transport the injured, and civilians fled to safety  in Turkey by climbing a barbed-wire fence
In Lebanon, the state-run National News Agency reported that Lebanese soldiers in the Bekaa Valley fired into Syria after "armed men" shot at them from across the border Sunday.  There were  no known casualties.
Fighting continued around Damascus's International Airport, which the Syrian regime had announced Sunday was open and running scheduled flights for the first time in three days.  EgyptAir, however canceled a flight that was en route from Cairo to Damascus on Monday and ordered it to turn around, citing the "bad security situation," Reuters News agency reported.
the towns and suburbs near the airport have seen some of the fiercest fighting in rectnt days between government troops and opposition forces.
###
---
Please join us in  our prayers that the peace of Jesus Christ would overcome those in this area and that they would turn to Him for their direction and guidance.    Many intercessors are need for this. Would you please consider becoming one?
Please feel free to visit our secure support page.  CLICK HERE.  As we continue to work in areas of War, Persecution and Disaster, we are in need to funding and every donation is humbly received.