UPDATES: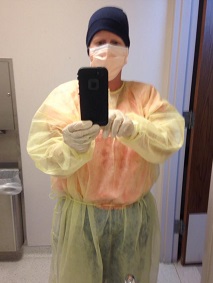 10/11 – 7:00 AM: Kevin Turner has been discharged from the hospital and is now recovering at home. Thank you to everyone for your prayers and support. Please continue to keep Kevin and his family in your prayers as he continues to heal. The SWI Team
10/9 – 12:00 PM: I do believe we have finally turned the corner. He has not vomited yesterday or last night so he is able to keep the malaria meds down. We may go home tomorrow. I'll just have to pry the morphine pump out of his hand. Hehe. Tammy.
10/8 – 11:00 AM: Kevin is getting a little better. PTL! He had a rough night of dry heaves but he is still having the pain in his head. He hasn't been able to keep anything down since Sunday, but he has IV fluids so that's good. Still not sure how long he will be here. Thank you for all of the prayers and encouraging words! Tammy.
10/7 – 1:00 PM: Well I was hoping Kevin would start getting better today, not much change from last night. The swelling in his brain ( cerebral edema ) is not going down yet, hence the head pain. He's very loopy and incoherent at times. I think we will be in here longer than we thought. He can't go anywhere until the swelling goes down. He's going for a cat scan today. Also I think he is showing signs of PTSD. Totally understandable after what he was through. The combination of all he's been through is taking a toll. Please continue to pray. Thank you. Tammy.
10/6 – 7:00 PM: Kevin finally got cleared from isolation at about 3:00 this afternoon. After that he finally got malaria meds in his IV and finally got moved to a room. Apparently there was some miscommunication between doctors and pain management was almost non-existent. It was a rough day but I think we're finally on the road to recovery. Thanks for the prayers! Tammy
10/6 – 2:00 PM: – Kevin could use your prayers… at about 2:00 am, he drove himself to the emergency room. Cerebral Edema from Falciparum malaria. It can be a killer if not caught in time. Still waiting for treatment to come from Tulsa. Tammy
10/6 – 12:00 PM: This is what quarantine looks like. It's like something out of a movie. Not much has changed, still waiting on test results. Apparently they were sent to Tulsa. The pain in his head is very severe. Tammy
---
ORIGINAL UPDATE:
Dear Friends and Prayer Warriors,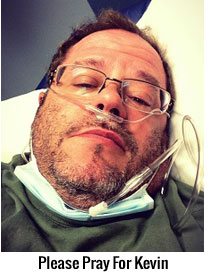 We have some important news on Kevin's recent trip to Africa and developments that have taken place since our last update.
The situation on the South Sudan/Uganda border has stabilized in the past few weeks, with things returning to relative "normal" since a tribal and political dispute led to a flare-up in violence. This included an attack on the mission compound were Kevin and others were staying. If you are not familiar with those events, you can read about them here.
Now, we have another urgent matter that requires your attention and prayers. Kevin's health has deteriorated in recent days, which has required hospitalization. Below is an update from him, which was made from his emergency room bed:
"…After spending five nights in the jungle, soaking wet, I checked myself into a local hospital about 2:30 a.m. Though I was taking a prophylaxis for malaria, being in the bush doing patrols through the night is a sure way to get malaria. Massive body and head pain and dehydration. I was quarantined for suspected Ebola and I told them I have had malaria five other times and this was malaria. So, my quarantine has been lifted and they are going to admit me for emergency IV treatment due to cerebral edema. This is pain with ten exclamation points. Infectious specialist did a great job. I am pretty ill according to the amazing team here and will be spending a few days in the hospital by myself…"
Please keep Kevin and his family in your prayers during this time. Needless to say, these new round of health challenges have taken their toll and have caused some discouragement. If you are able, please send a note to: team@swi.org and let Kevin know you will be praying for him and his family. These messages will go straight to him. In addition, it would be a huge blessing to include the following:
1) How/when you first met Kevin or learned of SWI.
2) A brief note of encouragement, and if applicable, how SWI or Kevin has made an impact on your life.
Thank you in advance for your prayers, support and messages. We know they will mean a great deal to Kevin during this time as he recovers from yet another severe bout of malaria.
The SWI Team