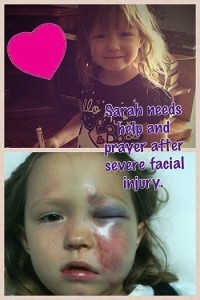 29JANUARY, 2013 – We have received an urgent prayer request from an international ministry partner and dear friend who is serving in a sensitive area where SWI has recently been working. He is asking for prayers for his child, Sarah, who recently fell out of a tree. As a result, she fractured her face in five different places, suffered a concussion and has fluid in her pelvis.
This incident is causing a great deal of pain for little Sarah and while she's being quite brave at the hospital, she's still very scared.
Sarah and her family have asked for us to pray for her and for others she hears crying in pain in this foreign hospital. She is currently in need of emergency reconstructive surgery for her eye and nose to function properly.
The family will need to travel to the United States for surgery within the next several days.
By the grace of God, a facial surgeon in Houston, who is also a follower of Christ, has offered to perform the surgery for free. However, the family is still in need of funding for four airline tickets to travel to Texas, which are quite expensive due to the combination of last-minute travel plans and the area they are traveling from.
Please join us in praying for the healing of little Sarah, wisdom for her parents, and for the airline ticket funding needed to bring this family to the United States.
For those of you who would like to financially assist with the tickets, we have set up a special donation tab on our website located here: http://www.swi.org/support-swi/
While we wish we didn't have to ask for this prayer, we treasure all of you who go before the throne at times such as this.
We humbly thank you in advance.
The SWI Team